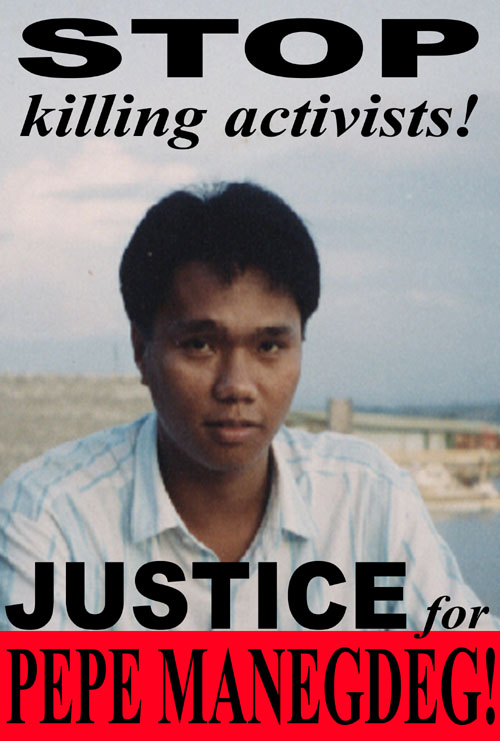 JOSE 'PEPE' MANEGDEG III was the Rural Missionaries Program Coordinator for the Ilocos and Cordillera regions when he was gunned down by unidentified (an) unidentified assailant(s) on November 28, 2005 at 10 PM in San Esteban, Ilocos Sur. Pepe had just come from a paralegal training where was a resource person. Pepe has worked with tobacco and rice farmers of Ilocos and the vegetable farmers of the Cordillera as a human rights and church worker.
---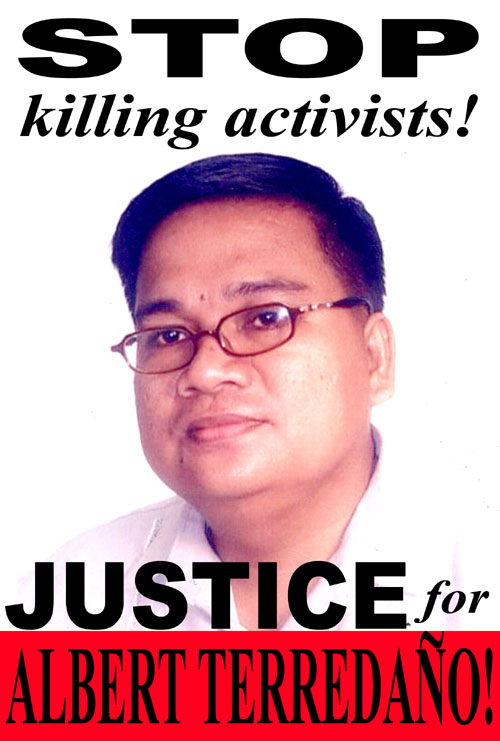 ALBERT TERREDAÑO was on his way to the Department of Agrarian Reform Office in Bangued, Abra when he was shot by an unidentified gunman on November 29, only 10 hours since Pepe was killed. He died in a hospital on the same day after battling for his life for a few more hours. Albert was the convenor of the Confederation for Unity, Recognition and Advancement of Government Employees (COURAGE) in Abra province when he was slain. He has worked as a human rigths worker with the Cordillera Indigenous Law Center (DINTEG) and the Abra Human Rights Advocates.
Pepe was brought home to Pagudpud, Ilocos Norte where his body now rests. A tribute was held on Decembe 1 at the Cathedral of the Ressurection compound for Pepe by friends and colleagues including those from the ecumenical community.Photos by AT Bengwayan/CPA Public Information Commission

---

Pepe, Albert and Romy's violent deaths may have jarred the people's march for genuine peace and justice, but only for a moment, as these have not quenched the fire for freedom. On one hand, the killings will certainly increase the number of people who fully understand what they have unceasingly stood and worked for. On the other hand, these have only exposed further the Arroyo regime for what it is — a terrorist government that has no respect to human rights and will kill with impunity anyone perceived to be their enemy. In both cases, more people have been roused to the compelling need to continue fighting until peace and justice reigns in this land.

The blood of our martyrs is eternal life to the struggle of the Filipino people.

---

A tribute was held by friends and colleagues for Albert on December 2 in Bangued, Abra. Odes were read to remember Albert, a tireless, dedicated public servant and human rights worker. Albert hails from Tayum municipality in Abra.

In Baguo City, the Cordillera Peoples Alliance and various sectors and organizations held an indignation rally on november 30 condemning the brutal deaths of activists in the country.