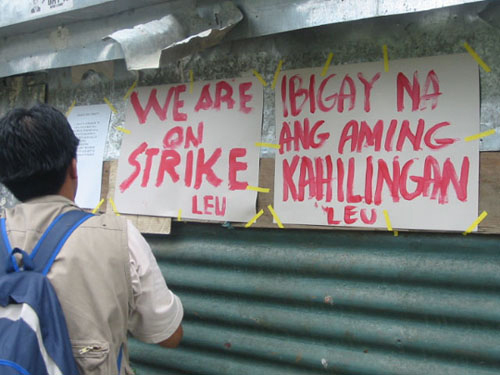 Igorots Picket Asia Pacific Mining Confab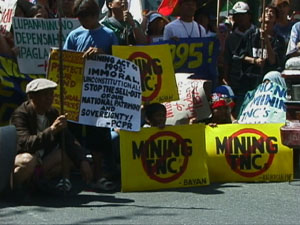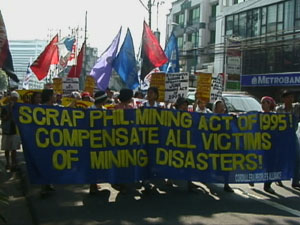 A picket-rally led by indigenous people from mining-affected areas in the Cordillera region while the International Mining Investment Conference was going on in Makati City on February 3, 2004.
Lakay Simplicio of Itogon, Benguet with the other affected indigenous peoples on mining joined the picket to express their opposition on the ongoing Mining Conference and not to allow mining enter their communities because of its destructive effect to their livelihood and environment.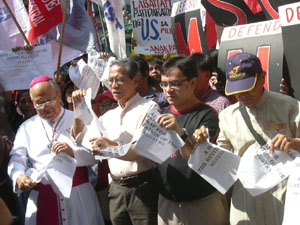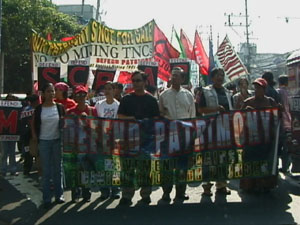 Rep. Satur Ocampo of BAYAN MUNA Partylist and other individuals expressed their support by joining the picket against destructive mining. This was done in front of the New World Hotel, the venue of the recently concluded International Mining Investment Conference, in Makati City.
---
Protest against Mining Act of 1995

Protest rally against Mining on March 3, 2005. Mining-affected communities in the Cordillera and other neighboring provinces of the Ilocos region and Cagayan Valley protested to demand for the disapproval of the mining applications in the Cordillera region and calling to scrap the Philippine Mining Act of 1995.
---
Cordillera Conference on Mining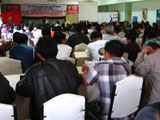 Cordillera Mining Conference on March 2-4, 2005 at La Consolacion, Camp 7, Baguio City. Over 200 delegates coming from different provinces in the Cordillera, Ilocos region and in Cagayan Valley gathered together to discussed the alarming effect of the many mining applications in the Cordillera region.