December 11, 2014
Like us on Facebook: Cordillera Peoples Alliance
---
ANNOUNCEMENTS and INVITATIONS:
Save the Date: December 10 l International Human Rights Day Activities in Baguio City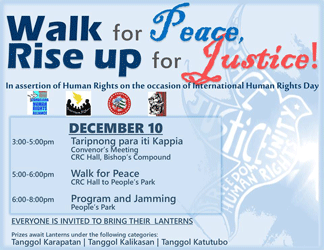 ---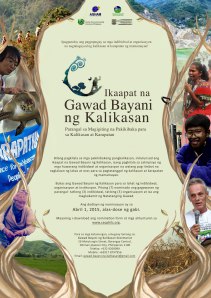 Call for 4th Gawad Bayani ng Kalikasan Awards
Nomination forms and other information on GBK can be accessed at http://www.cecphils.org/. Winners will be publicly presented in an awarding ceremony on December 2015.
---
PUBLICATIONS:
Published by the Asia Indigenous Peoples Pact (AIPP)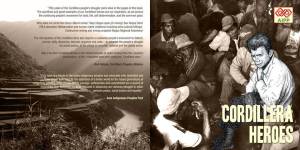 Copies are sold at the Cordillera Peoples Alliance Regional Office and Mount Cloud Bookstore
---
CPA FRIENDS ABROAD
The Cordillera Peoples' Alliance Friends Abroad (CPA Friends Abroad) is a broad international network composed of individuals and groups in different countries who are supportive of CPA's program for the promotion of indigenous peoples' rights and welfare.
Mt. Province elders unite for land, life and peace in MAITUD Congress

With the theme "Affirm the role of elders for the defense of land and resources for future generations", at least 60 elders belonging to the Movement for the Advancement of Inter-Tribal Unity and Development (MAITUD) convened in Bontoc, Mt. Province for their 3rd Congress recently.

Respect the Rights of the People of Lacub over their Ancestral Domain

The Cordillera Peoples Alliance (CPA) supports the people of Lacub, Abra in their continuing struggle to defend their ancestral domain against the impending mining destruction amidst human rights violations, threats, manipulation, use of force and deception by the Golden Lake Mineral Resources Inc. (Golden Lake), the local government of Lacub and the National Commission on Indigenous Peoples (NCIP).

CPA Wins International Eco Water Award

The Cordillera Peoples Alliance (CPA) is greatly honored as the recipient of the Eco Water Awards 2014 Gaia Prize presented by the Korea Federation for Environmental Movements (KFEM)/Friends of Earth Korea, Seoul Broadcasting System (SBS) and Ministry of Environment of the Republic of Korea. CPA received the award during the awarding ceremony held on November 24, 2014 at the SBS Prism Tower in Seoul, South Korea.

CPA Calls for Vigilance in Times of a Dangerous State

When State security forces kill, torture, rape, arrest and file trumped-up charges against people whom they are supposed to serve and protect, who will protect the people?

Pablaak ti Itogon Inter-Barangay Alliance: Ilaban, Aywanan ken Salakniban ti Ili tayo nga Itogon!

Nasurok sangagasut a tawen ti panagtalinaed ti makadadael nga operasyon dagiti dadakkel a kompanya ti minas iti ili tayo nga Itogon. Gapu iti agtultuloy a kinagamrud dagitoy a kumpanya ti minas maib – ibus metten ti nabatbati pay a kinabaknang a para koma iti agdama ken sumaruno pay a kapututan.

Pablaak ti Cordillera Peoples Alliance para iti Mines UNSafety Week

Mines UNSafety Week 2014 ti Kapitalista a Panagminas: Ennem a Pullo ket Maysa a Tawen a Panangallilaw, Panag-ulbod ken Panangitandudo ti Makadadael a Panagminas

IPRA and NCIP: 17 Years of Indigenous Peoples' Rights Violations

October 29, 2014 marks 17 years of the Indigenous Peoples Rights Act or RA 8371. The Cordillera Peoples Alliance is issuing this paper to iterate anew its evaluation of and position rejecting the IPRA and declaration for the abolition of NCIP.

On the Abduction and Enforced Disappearance of the 43 Students of Ayotzinapa School in Guerrero, Mexico

The Cordillera Peoples Alliance (CPA) from the Philippines and the International Indigenous Peoples Movement for Self Determination and Liberation (IPMSDL) are in solidarity with you in condemning in the strongest terms the abduction and enforced disappearance of the 43 students of the Ayotzinapa School in Guerrero, Mexico. We are one with you in the urgent demand for justice to the victims and their families and communities and the call to ensure State accountability and an end to impunity of narco-government agents who are responsible in the enforced disappearance of the 43 students of Ayotzinapa.

SUMIKAD Cordi People's Protest Condemns IP Rights Violations, Militarization

On October 20, hundreds of indigenous peoples (IP), advocates and families of victims of human rights and international humanitarian law violations marched the streets of Baguio City and highlighted the pressing issues of state fascism and national oppression.

Umili ti Kordilyera, Ipinget ti Bukod a Pangngeddeng! Labanan ti Pasismo ti Estado! Patakyasen ni Aquino!

Gumilgil – ayab nga unget, lumawlawa a pannakilaban, agal – allangugan a pukkaw para iti hustisya daytoy ti agdama a kasasaad dagiti umili iti intero a komunidad isunga isayangkat daytoy a protesta dagiti umili ti Kordilyera ita nga aldaw gapu iti umir – irteng ken sistematiko a panaglabsing iti kolektibo ken pangtao a karbengan dagiti nainsigudan nga umili ti rehiyon babaen ti pasismo ti Estado, nakaro a militarisasyon ken nailian a panangidadanes
VIDEOS:
People's General Assembly on Development Justice
The People's General Assembly on September 24, 2014 in Manhattan, New York was co organised by the IBON International, Indigenous Peoples Movement for Self-Determination and Liberation (IPMSDL) of which the Cordillera Peoples Alliance is a member; Campaign for People's Goals for Sustainable Development, Asia Pacific Forum on Women, Law and Development (APWLD), and Women's Environment and Development Organisation (WEDO). The CPA was among the panelists in this important assembly parallel to the World Conference on Indigenous Peoples.
---
Cordillera Day 2014: From Chico to Chevron
Just before the visit of U.S. President Barack Obama to the Philippines, the main celebration of the 30th Cordillera Day in Guinaang, Pasil, Kalinga was held on April 23-25, 2014 with some 4,000 local and international delegates participating. As a fitting tribute to the martyrdom of Macliing Dulag, Pedro Dungoc and other heroes of the Cordilleras, a historic Unity Pact is forged by present-day tribal elders and leaders to resist imperialist plunder of their land and resources. It was the World Bank Chico River Dam project before, now there's Makilala Mining, a subsidiary of U.S. company Phelps-Dodge, and the Chevron Geothermal project.
---
Produced by the Tan-aw Multimedia Collective, Health Action Information Network (HAIN), the Save the Abra River Movement (STARM), Montañosa Relief and Rehabilitation Services (MRRS), and Cordillera Peoples Alliance, Toxic Gold presents the effects and impacts of Lepanto Consolidated Mining Corporation's bulk mining operations to the Abra River and the indigenous and peasant communities by the river. Apart from the environmental, social and agricultural impacts, the documentary presents the plight of Lepanto's underground mine workers. It runs for 24 minutes.
---
Produced by Cordillera Peoples Alliance and Southern Tagalog Exposure in 2002. The documentary delves on the importance of the Agno River to the people of Itogon, Benguet and Pangasinan and how the San Roque Dam Project will take away the right to land and livelihood of the people. The people's struggle against the government flagship project rages despite the impoundment of water in the dam.
---
Excerpt from That the Mountains May Chant the Truth from Cordillera Human Rights Alliance
---
Links to Other Videos: